Who is D18?
Dennis Eighteen is a part time photographer and writer living in Berlin, Germany. He runs a
YouTube channel
on amateur photography, with a growing list of English and German content. He uses both analog as well as digital cameras. Dennis calls himself a "friend of digital and a lover of analog photography." Accordingly, most of his work is shot on film. His camera collection ranges from Minolta SLRs to Agfa box cameras and from toycameras to professional medium format equipment. Twin-lens-reflex's, and compacts and vintage Polaroid cameras also fill his shelves. Dennis spends many hours browsing flea markets, eBay and thrift stores. He is constantly on the lookout for interesting and often quirky vintage cameras. Unlike many collectors, he buys them to shoot, not to be admired on a shelf.
NEWS
Dennis recently released his first book on film photography, which can be found on Amazon.
If you are thinking of getting (back) into analog shotting, this is the book for you. To pick it up, just click on the cover.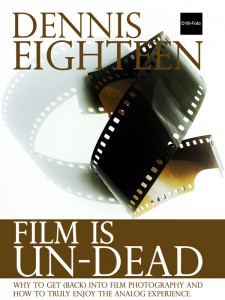 Videoblog (English Edition)
Wellcome to my video blog on amateuer photography, toy cameras, vintage stuff and all the wonders of picture taking. I have been running this blog in German for about a year and have decided to do a few episodes every year in English. Just to reach a bigger audience and find more friends from aroud the world who are into taking great photos with cheap/affordable cameras. Most of the stuff I use is analog but I also love my iPhone and my Canon EOS 70D. So no analog vs. digital battles here. Just some spirited discussions... 🙂 Don't forget to subscribe!